Rotary
| Working Principle
High precision, gravimetric filling lines, working on the principle of real time net weight product dosing. The empty containers are introduced on the load cell platform as they pass through the major arc of the dosing carousel's rotation. The container's arc path is divided into process phases.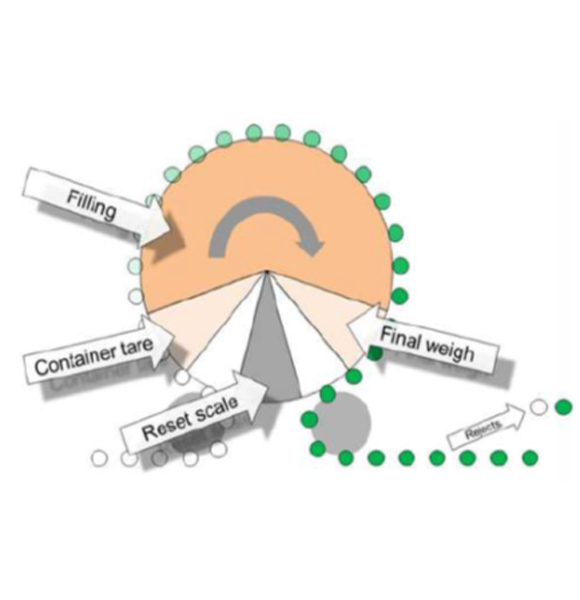 Tare weight control:

the empty weight of each container is measured as it enters the net weight filling station. If the tare weight of the container shows a variation from the programmed tolerance the filling valve remains closed and the system generates a reject signal.

Control of the filling phase:

to obtain an optimal fill, the system optimises the filling curve by comparing the actual weight with the target set point 1000 times p/sec. The continuous monitoring recognizes any filling abnormalities and if necessary the appropriate fill nozzle is instantly shut and a reject signal is generated for that container.

Final check of the net weight:

once the filling cycle has ended, the system checks the filled container to identify any net fill weight outside of the tolerance; a reject signal is generated for any unacceptable container.

On the fly dose correction:

at the end of the fill cycle, even if the net fill weight is within acceptable tolerance, the autocorrecting system attempts to adjust the fill to the exact set point. This function maintains a constant fill dose regardless of the variation in parameters such as product temperature, ambient pressure, line speed, etc.

Automatic recalibration of every station with each revolution:

over the entire production cycle the weighing system control software updates the function of each weighing cell, verifying its mechanical, electric, and electronic status for every revolution of the filler.